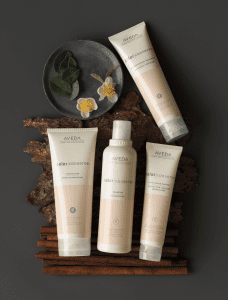 Static, cold temperatures, humidity. These are all things that winter brings to Cincinnati. Other than moving south to escape the snow, there aren't easy ways to combat the obstacles winter brings. But when the elements affect hair care, there's no need to succumb to frizzy hair. Pure Concept Salon + Spa has just the Aveda products to keep hair looking healthy and radiant all winter long.
Styling hair can call for a variety of products, depending on the look. But with dry winter weather, what's the best way to prevent flyaway hair? Static? Typical hairspray can keep hair in place, but can also add extra weight. To have soft-to-the-touch hair that is styled to perfection, Aveda's Brilliant™ Spray-On Shine is the best hair care product for the job. Designed to give hair an instant gloss, Brilliant™ Spray-On Shine is meant for all hair types. Spray in Aveda's Brilliant™ while brushing hair to get flyaway hair under control. Or, when done styling hair, add a dab of Brilliant™ to palms or fingertips to control unruly locks in certain spots.
Other than static, winter brings the thought of coziness, and sometimes, that turns into laziness. For after a workout, during a day of travel, or for those looking to save water, Shampure™ Dry Shampoo can handle all of those scenarios. An Aveda dry shampoo has been the most requested product since 2010, and it's now at Pure Concept! Not only does using a dry shampoo between washes save water, the Aveda Shampure™ Dry Shampoo uses a non-aerosol mist to revive hair, so it's respectful of the Earth as well. As a non-aerosol spray, Shampure™ Dry Shampoo absorbs natural oils of hair. Of course, being Aveda, the Shampure™ Dry Shampoo is a blend of natural powders with ingredients like oat and cassava, among other plant extracts.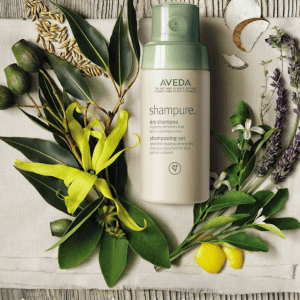 While all of Aveda's products include natural ingredients, for those who change their hair from its natural color need a little protection. Specifically, some Color Conserve™ protection. A leave-in treatment, Color Conserve™ Daily Color Protect helps protect and preserve colored hair for up to six weeks, making hair always look like salon quality. The Color Conserve™ Daily Color Protect gives hair triple the protection with its unique formula. Larch tree extract, green tea extract, and cinnamon bark and wintergreen oils all work together to protect against sunlight and the environment, as well as seal in color.
Keeping frizz at bay, taming flyaways, and protecting colors — Aveda has come up with ways to combat every element of winter. Stop by either salon location today to stock up on these Aveda hair care products for winter.