How Does Pure Purpose Work?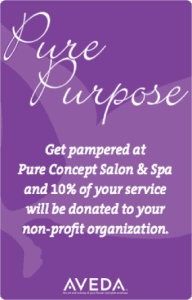 Stop in to one of our locations for a request form, or contact us through our website
You will be contacted as soon as possible to schedule your fundraising event. The program is offered monthly for one month at a time. (Please allow at least two weeks' advance notice to the event month requested. Subject to availability.)
A flier template will be emailed for you to reproduce and distribute.
Your organization's supporters will promote the event in the community and pass out the flyer to as many friends, family members, co-workers, and neighbors as possible.
During the month you've chosen, your invited guests will get pampered at Pure Concept Salon + Spa, enjoying our array of professional services and generating funds for your group.
Your guests will present the flier to the front desk at the time of their service. Your guests are invited to come as often as they like during your fundraising month!
A check will be sent in the mail from our corporate office to your organization within 2-3 weeks of the event month. Each organization can be represented only once per year to allow an opportunity for all interested groups to participate.