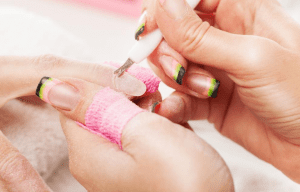 A manicure is something that everyone deserves. It doesn't matter where you are in life or how busy you are taking care of your family or building your career, it is important that you take out time exclusively for yourself. Treating yourself with a manicure is a great way to get relaxed and at the same time look great.
People often reserve getting a manicure for special occasion. Getting a manicure for a wedding or prom night is a good way for having great looking hands for that occasion. But it is highly recommended to look into the benefits of getting regular manicures and providing great benefit to your health and looks.
Surprisingly many people are unaware of the importance of and the benefits they can avail from getting a simple manicure. People are only aware of the most common benefits of getting a manicure that is it gives them clean and healthy nails and makes their nails look pretty or simply because getting a manicure is relaxing. But this is only the tip of the iceberg, the actual benefits are numerous and we will discuss some of the benefits of getting a manicure done regularly here.
Manicure Protects Your Hands and Nails from Harsh Weather Conditions
Harsh winters specifically tend to damage the nails and hands in general. The cuticles get damaged and a perfect manicure will help in shaping and moisturizing the nails. A manicure is the perfect solution for chapped and worn out nails that took a lot of damage throughout the month.
Getting a Manicure Is Relaxing and Soothing
A relaxing manicure is something that will relieve you of all the stress that has been accumulating. A simple hand massage is a great way to revitalize nerves and relax the entire body. A manicure can be a great substitute for a body massage.
Manicure Provide the Most Needed Treatment for Healthy Nails
The health of your nails is just as important as the health of any other body part. And like exercise and meditation are important for healthy body and mind. A manicure can be said to be the treatment and exercise for the health of the nails.
A Regular Manicure Provides You the Hygiene and Cleanliness Needed
It is said that hygiene is the cornerstone of health. And clean and hygienic nails can help improve the overall health of the body.
Improves Circulation of the Blood and Promotes Healthy Joints
The relaxing massage during manicure is more than relaxing; it also provides the improved blood circulation and healthy joints.
A Manicure Gives You a Great Opportunity to Look Great and Be Trendy
Manicure provides you the opportunity to keep up with the latest fashions and trends when it comes to nails and hands.
The Bottom Line
Getting manicures on a regular basis is definitely a great way to pamper yourself, furthermore, your hands start looking substantially beautiful and well maintained when you get regular manicures. You retain the benefits of healthy hands longer. And after every manicure the health and beauty of your hands increase.
The well trained staff at Pure Concept Salon + Spa with well equipped and exceptionally relaxing facility will give you the most amazing manicure. Additionally, they will also provide you with the education needed to maintain the healthy nails longer.